Hiltra
Megasaver® fire compartment for Kenbri project Vopak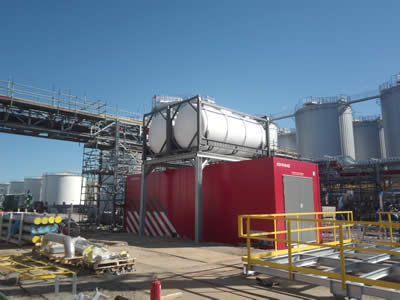 In recent years, Hiltra has continued to specialize in the engineering and construction of prefabricated installation spaces. These products are used in various branches of industry. Eéone of the loyal relations that Hiltra Barneveld B.V. can supply with these products is Kenbri Fire Fighting B.V. in Numansdorp. For a special project for Vopak, Hiltra built a valve house in close collaboration with Kenbri, which now forms the heart of the extinguishing installation at Vopak. It concerns a 60 minutes fire resistant valve house with the dimensions LxWxH: 12.0x3.9x4 m and a weight of approximately 12 tons. In Barneveld all the necessary consoles for mounting pumps, piping, pipe penetrations with fire cuffs etc. were integrated into the unit frame. For more information also see:
www.kenbri.nl...
For more information regarding
prefabricated installation spaces
please click here or contact our sales department on T 0342-404160.
Click here for more images.