Hiltra
Fire resistant safety cabinets
General specifications
Version 1.3 | 25-11-2019
F90 Labsaver® Safety Cabinets LS320 - LS620 - LS1220-EN
A safety cabinet purchased after 1 January 2006 must comply with the European standard EN 14470-1/2004, fire resistance 30, 60 or 90 minutes, in accordance with the PGS15. A product certificate must be available within the establishment for the safety cabinet which shows that it meets the aforementioned European standard. The instructions containing the certificates are supplied with the Labsaver cabinet.
Design and layout in accordance with the regulations in the PGS 15 guideline.
Cabinets are only suitable for indoor use.
Fire resistance 90 minutes determined in accordance with the European Norm (NEN-)EN 14470-1/2004 by accredited test institute MPA Dresden.
Tested according to the European Standard EN 14727 (Laboratory furniture).
GS mark "Geprüfte Sicherheit" issued by the accredited test institute MPA Dresden.
CE declaration of conformity according to the European Standard EN 45014.
Internal panelling: Formaldehyde emission class E1 to EN 13986; biological risk class 1 to EN 335-3; fire class B-s2,dO to EN 13501-1:2002.
Enclosure body and door manufactured from zincor steel and powder coated in RAL 1007/carnic yellow ( n/a on LS320) or RAL 7035/light grey.
Fire resistant insulation package made of non-combustible, environmentally friendly materials finished with a white impact and scratch resistant HPL top layer.
Potential-free earthed on the enclosure body up to the earthing connection point on the enclosure roof.
The interior of the cabinet is optionally earthed up to the earthing connection point on the roof of the cabinet.
Standard with adjustable feet ±20 mm for leveling the cabinet. (not available on LS320)
Front equipped with a single or double self-closing wing door with a handle placed at an ergonomic height and lockable by means of a cylinder lock (incl. 2 keys).
Door optionally available with thermolock fire door closing mechanism so that it can remain open in a position of 90º to 100º, but closes automatically in case of fire.
Door rebate provided with fire resistant strips, so that the door rebate is hermetically closed in case of fire.
Fixture manufactured from zincor steel and powder coated in RAL 7035/light grey.
Equipped with a freely removable, liquid-tight container with removable insert, load-bearing capacity 75 Kg.
Note: according to the NEN-EN14470-1, a floor collector without insertable grid may not be used as a set-up/storage area for packaging.
Side walls of the cabinet are fitted with steel powder coated shelf fixing plate with hook-in grid for the shelves with a height adjustment in a grid of 50 mm. ( n.a. for LS320-EN).
Shelf fixing plate also serves as liquid guiding plate.
Fitted with 3 freely removable shelves with 30 mm high skirting boards as protection against sliding, load capacity 75 kg with evenly distributed load. ( not applicable for LS320).
Fitted in the rear wall with an integrated ventilation and venting channel.
Ventilation opening in the enclosure, 1 x above the bottom drip tray (low) and 1 x ventilation opening in the rear wall (high).
Ventilation duct provided with fire dampers which close automatically in case of fire.
Ventilation openings on the rear wall (LS320-EN) or on the roof (LS620-EN and LS1220-EN) provided with flange
Ø 80 x H 65 mm for the constructional connection to a ventilation system or optional cabinet fan.
Hazard indication by means of the type label prescribed in EN 14470-1 with pictograms, symbol: "smoking and open flame prohibited" and "flammable substances".
---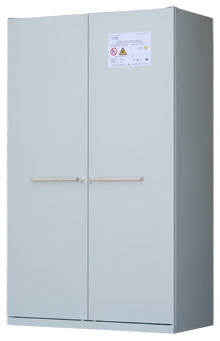 Labsaver LS1220-EN