Hiltra
Organisation
Hiltra Barneveld BV has been prominent in the European market for over 40 years as a producer of storage systems for hazardous substances (ADR). Hiltra develops and supplies all possible solutions for the storage of hazardous substances in accordance with the PGS 15 guideline.
In the realization of the correct storage of hazardous substances, we believe that there are two important principles; The organization's construction and environmental legislation and the way in which substances can be used within an organisation. More concretely: your logistics and working method.
In these two points you will find, among other things, the added value of Hiltra.
The regulations are complicated and often make it difficult to quickly find the right solution. If desired, we can advise you at your location and, if necessary, participate in consultation with the various government bodies.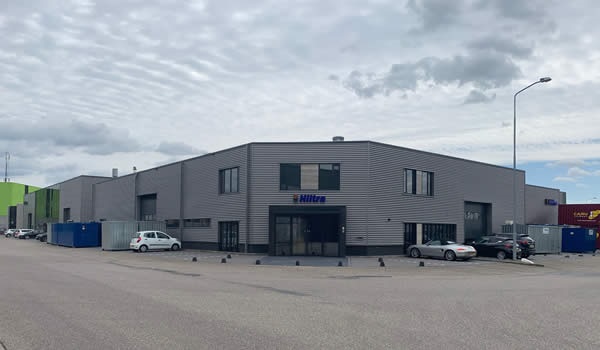 In addition to storage systems for hazardous substances, our joint storage systems are used as technical installation space. This includes all kinds of applications such as pump installations, fire extinguishing systems, valve houses, water treatment, cooling rooms, spray equipment and dosing rooms. We build these installation rooms to your specification, but also offer standard solutions.

We offer you a global and effective organization in which full-fledged goods are occupied by service-oriented and well-rounded employees who, through years of experience and knowledge, are thoroughly advising and manufacturing storage systems in accordance with the most recent construction and environmental legislation.

With over 40 years of experience and know-how in the production of storage systems for hazardous substances, we offer you the guarantee of a workable and above all reliable solution tailored to your situation. This guarantee is further underlined by our product certification and achieved fire test procedures according to the regulations stated in the PGS 15 directive.

If you have any questions about the storage of and working with hazardous substances, our team of advisors will be happy to assist you. Personal advice on location of a non-binding quote is of course also part of our standard working method.



Contacts:

General Data:
| | | | |
| --- | --- | --- | --- |
| Hiltra Barneveld b.v. | T | 0342-404160 | Chamber of Commerce 09047575 |
| Compagnieweg 14-16 | | | BTW-nr. NL005438421B01 |
| NL-3771 NH Barneveld | E | algemeen@hiltra.com | |
| | | | |
| Hiltra Verhuur b.v. | T | 0342-404160 | Chamber of Commerce 08188769 |
| Compagnieweg 14-16 | | | BTW-nr. NL820387630B01 |
| NL-3771 NH Barneveld | E | verhuur@hiltra.com | |