Hiltra
Labsaver F90 LS1220-EN - Li-ion - gray - LOAD 230V (offer new from stock)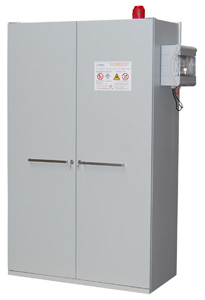 | | |
| --- | --- |
| Normal price | € 7.058,82 |
| Special Price | € 6.000,00 (-15%) |
Model specifications
Article number
120600-994
Certification cabinet
F90 in accordance with EN 14470-1
Certification Emergency Pressure Relief
EI-90 in accordance with 1634-1
External dimensions WxDxH
approx. 1200 x 600 x 2035 mm (W incl. E-cabinet approx. 1350 mm)
Internal dimensions WxDxH
approx. 1095 x 450 x 1724 mm
Self-closing door
Double, lockable with cylinder lock
Standard features include:
Fire-resistant emergency pressure hatch incl. filter, approx. 200 x 200 mm
-
Emergency pressure hatch including cover and flange connection Ø 125 mm
-
Thermal door lock
-
4x double PE-coated grill shelf
-
Aerosol fire extinguisher cartridge incl. fire detector
Loading device;
230V-1F-50Hz/13A - 8 charging slots (372W/socket)
-
Two (2) wall outlets à 4 charging spaces for chargers with LED on/off switch on top 2 layers.
Grid shelf BxDxH
approx. 1070 x 425 x 25 mm
Carrying capacity of shelves
up to 110 kg when evenly distributed
Own weight
approximately 425 kg
Packaging and transportation
on stainless steel transport base, upright H=2200 mm
Number for this offer
2 pieces, of which 1 piece has been reserved !
| | |
| --- | --- |
| Article number | 120600-994 |
| Certification cabinet | F90 in accordance with EN 14470-1 |
| Certification Emergency Pressure Relief | EI-90 in accordance with 1634-1 |
| External dimensions WxDxH | approx. 1200 x 600 x 2035 mm (W incl. E-cabinet approx. 1350 mm) |
| Internal dimensions WxDxH | approx. 1095 x 450 x 1724 mm |
| Self-closing door | Double, lockable with cylinder lock |
| Standard features include: | Fire-resistant emergency pressure hatch incl. filter, approx. 200 x 200 mm |
| - | Emergency pressure hatch including cover and flange connection Ø 125 mm |
| - | Thermal door lock |
| - | 4x double PE-coated grill shelf |
| - | Aerosol fire extinguisher cartridge incl. fire detector |
| Loading device; | 230V-1F-50Hz/13A - 8 charging slots (372W/socket) |
| - | Two (2) wall outlets à 4 charging spaces for chargers with LED on/off switch on top 2 layers. |
| Grid shelf BxDxH | approx. 1070 x 425 x 25 mm |
| Carrying capacity of shelves | up to 110 kg when evenly distributed |
| Own weight | approximately 425 kg |
| Packaging and transportation | on stainless steel transport base, upright H=2200 mm |
| Number for this offer | 2 pieces, of which 1 piece has been reserved ! |
Options and accessories
HF filter cassette in cover (against hydrogen fluoride emissions) LS1220 -li-ion
06600232
€ 95,00
SMS alarm module for external signalling to an operator/alarm station LS1220 - LI-ion
06600230
€ 991,00
| | | |
| --- | --- | --- |
| HF filter cassette in cover (against hydrogen fluoride emissions) LS1220 -li-ion | 06600232 | € 95,00 |
| SMS alarm module for external signalling to an operator/alarm station LS1220 - LI-ion | 06600230 | € 991,00 |