Hiltra
Chemosaver fire compartment for Indupol International N.V.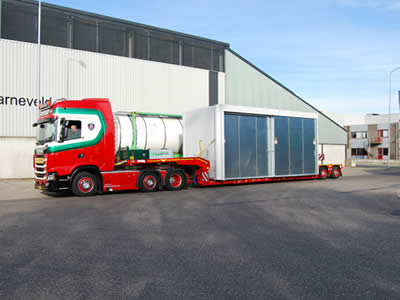 Hiltra developed this special
Chemosaver
for Indupol International NV in Arendonk (B), market leader in the production of composite bodyparts for the automotive, railroad and agricultural sectors. The
Chemosaver
with a fire resistance of 60 minutes is suitable for the placement of 6 IBCs. The IBCs are connected to a pump system and provided with piping to the spray cabin. Furthermore, the fire compartment is equipped with an agitator, suspended in a special crane track. This makes it possible to move the agitator safely and easily between the IBCs. To operate the agitator and the technical installation, the
Chemosaver
is equipped with a separate room for an operator.
Click here
for more images.